Trenchless Sewer Replacement in Santa Rosa, CA
You're enjoying a quiet evening at home, when suddenly, you notice an unpleasant odor permeating the air. You investigate and discover a sinkhole in your yard, evidence of a sewer line emergency. It's an unfortunate situation that many homeowners dread. But when it comes to sewer problems, there's a modern solution that's changing the game – trenchless sewer replacement.
The Answer to a Broken Sewer Line
Owning a home in Santa Rosa comes with its unique joys and challenges. Unfortunately, sewer line problems are among the less enjoyable aspects of homeownership. Whether it's recurring clogs, slow drains, or the nightmare of sewage backup, these issues can disrupt daily life and create health hazards. Traditional sewer line replacement is often associated with extensive digging, property disruption, and high costs. It's an ordeal no homeowner wants to experience. Thankfully, with a trenchless approach, there is no need to dig up your property.
Why Choose Us to Replace Your Sewer
Holman Plumbing is here to alleviate your sewer line woes. We've earned the trust of the Santa Rosa community by providing professional, efficient, and minimally disruptive trenchless sewer replacements. Our reputation is built on years of dedication to solving sewer problems without causing unnecessary upheaval for homeowners.
Our Trenchless Sewer Replacement Process
Trenchless sewer replacement is a revolutionary approach that simplifies the process of replacing damaged or deteriorating sewer lines. It all starts with a comprehensive inspection using advanced camera technology. This allows us to accurately assess the condition of your sewer line and determine the most suitable solution. Instead of extensive digging, trenchless technology requires only a few access points, minimizing disruption to your property.
The repair process may involve pipe bursting, where a new pipe is pulled through the old one, breaking the old pipe apart. Alternatively, pipe lining can be used to create a durable, seamless interior within the existing pipe. Both methods are efficient and cost-effective, providing a long-lasting solution.
Trust Our Local Experts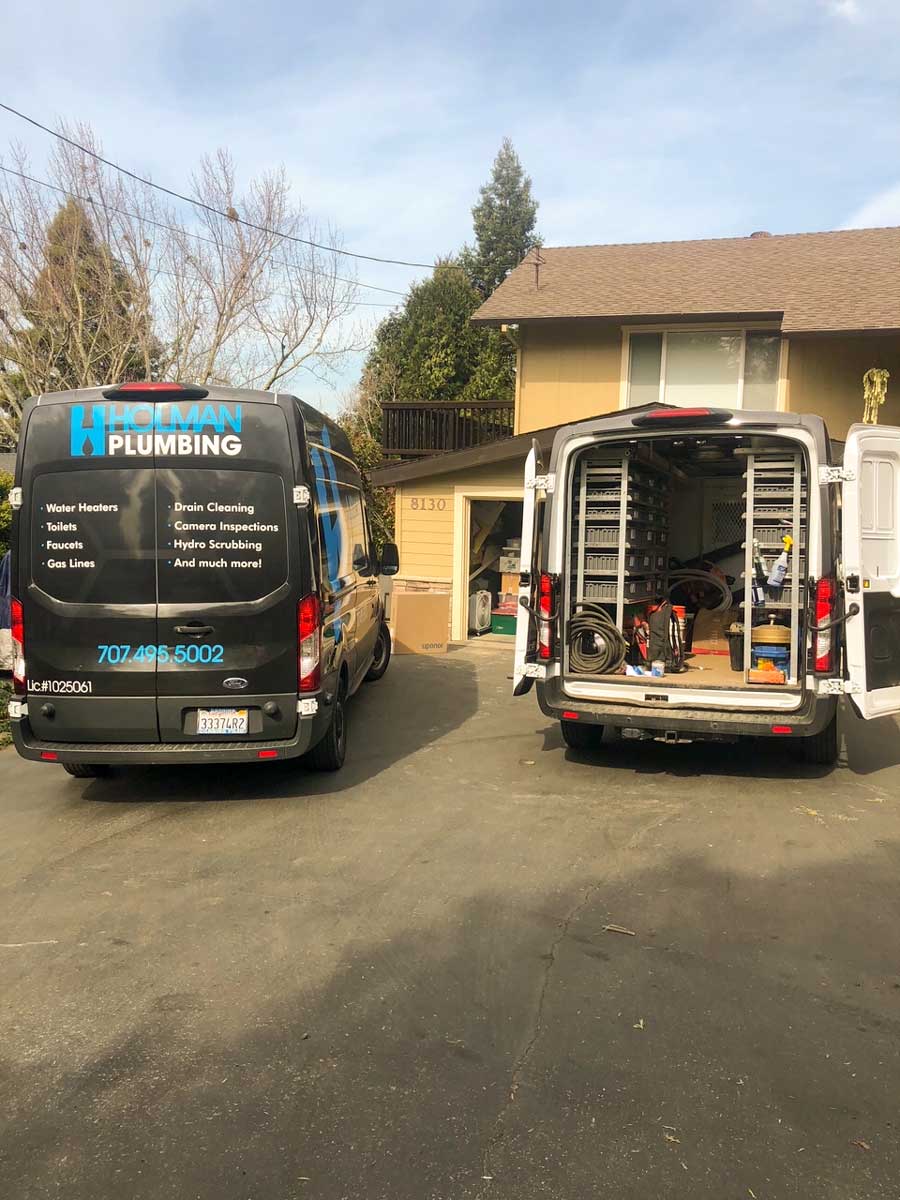 When it comes to trenchless sewer replacement, local expertise is invaluable. Holman Plumbing is a part of the Santa Rosa community, and we understand the unique challenges and regulations specific to the area. Our local experts not only possess the necessary skills but also the knowledge to ensure that your trenchless sewer replacement complies with local standards. This local touch is crucial to the success of the project.
Advantages of Trenchless Sewer Replacement
The benefits of trenchless sewer replacement are numerous, making it the preferred choice for homeowners in Santa Rosa:
1. Minimal Disruption: Traditional sewer replacement involves extensive digging, which can damage landscaping and hardscaping. Trenchless technology reduces this disruption, preserving your property's aesthetics.
2. Cost-Effective: Trenchless replacement often proves more cost-effective in the long run. It minimizes labor costs and eliminates the need for extensive landscaping restoration.
3. Faster Resolution: Trenchless methods are quicker, allowing you to regain full use of your sewer system in no time.
4. Durability: Trenchless replacement typically results in a more durable solution, often exceeding the lifespan of traditional methods.
5. Environmentally Friendly: The reduced digging involved in trenchless replacement is eco-friendly, reducing the project's carbon footprint.
Our trenchless sewer replacement services offer a convenient, cost-effective, and minimally invasive solution to all your sewer line problems. Contact us today to explore the future of sewer line replacement.
FAQs on Trenchless Sewer Replacement in Santa Rosa
Contact Holman Plumbing For All Your Plumbing Needs